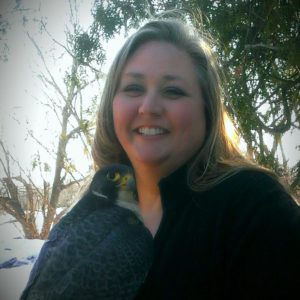 Please share an early/childhood experience that was pivotal to your personal relationship to wildlife.
My father found an injured crow when I was a child.  We helped him recover from his injuries and when he was released he lived near our house for years, bringing me trinkets and creating a desire in me to help injured wildlife.  
How did you initially become involved with IWRC and why did you choose to become involved on a board level?
I joined the Course Development Committee and was asked to join the board by a past board member.  I felt that IWRC was heading a very positive direction and wanted to be a part of it.
Describe a specific area of interest or a particular passion within the scope of IWRC's mission.
My passion is course development.  I am very excited to be a part of the growth in this aspect of IWRC.  The future promises many new and varied courses!
Describe a project or accomplishment that you consider to be the most significant in your career.
The revision of the Basic Course and Manual and being an IWRC course instructor
If you could choose, who would you have as a mentor?
Jane Goodall
If you were to do something else professionally, what would it be?
A veterinarian or zookeeper.  Anything with animals :)
If you could be a wild animal, which would you be?
A Redtail hawk
What excites you so much that it keeps you awake the night before?
Symposiums
Describe any companion animals that you share your home and life with.
Three dogs, a cat, and a Meyer's parrot named Olive