Wendy Fox, Former Seabird Station Director, Has Passed Away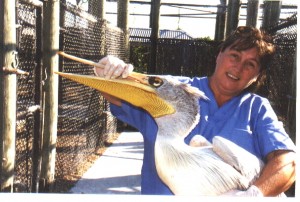 Miami, August 8, 2011: Wendy Fox, age 54, passed away August 6 in her home surrounded her family, after a long battle with cancer. Wendy was the Executive Director of Pelican Harbor Seabird Station for 10 years. She retired in June. Her son, Brian Fox, has taken her place as Executive Director. She is survived by her husband, Jeff; mother, Joan; two children, Mieke and Brian, and two grandchildren, Makayla and Emily. In lieu of flowers, her family requests well-wishers to please make donations in her memory to Pelican Harbor Seabird Station.
Under her leadership the Seabird Station grew rapidly and began assisting other rehabilitation centers throughout the region. This included training wildlife rehabilitators in the US Virgin Islands, and assisting others with the care of injured pelicans along the eastern seaboard. She also served as the President of the National Wildlife Rehabilitator's Association.
Her proudest moment, the pinnacle of her career, came in the summer of 2010, when Wendy was flown to Louisiana to assist with the care and treatment of pelicans oiled in the Deepwater Horizon oil spill. Some of these animals were transported to the Seabird Station in Miami for extended care.
Pelican Harbor Seabird Station (PHSS) is a non-profit 501(c)(3) wildlife rehabilitation center dedicated to the care of sick, injured and orphaned wildlife in the greater Miami area. PHSS is famous for its work with brown pelicans.
In lieu of flowers, the family requests donations to honor Wendy be sent to Pelican Harbor Seabird Station, 1279 NE 79th Street Causeway, Miami, FL 33138-4206.  Donations can be made payable to Pelican Harbor Seabird Station.