Online learning is increasingly viewed as a valuable platform that offers tools not available in a traditional classroom setting. The IWRC strives to make our courses as accessible as possible, while constantly improving their quality. Throughout the remainder of 2020, we will be releasing new and revamped online courses that take advantage of the technological benefits of virtual learning.
This new generation of IWRC online courses will utilize the classic digital lecture style of our previous classes, and make them more interactive. We are adding knowledge reinforcing activities and tools, including knowledge checks, flashcards and other activities, as well as closed captions, to ensure students are getting the most from their learning experience. Our classes will employ different types of media such as pictures, audio, text, and video, to cater to a wider spectrum of learning styles. We hope that our students will enjoy not only a broader range of courses available from the convenience of their homes, but also an enhanced educational experience.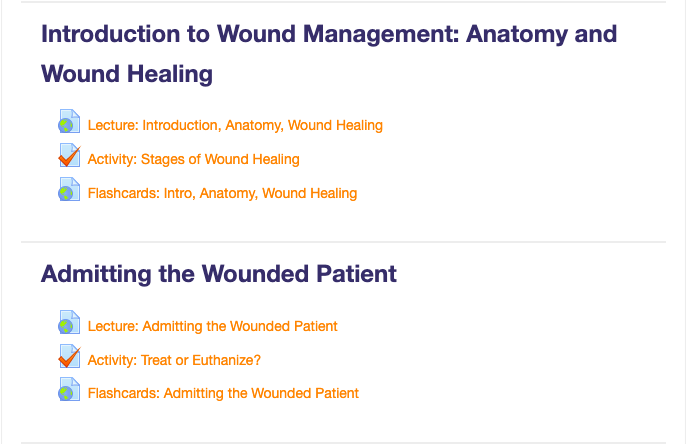 The IWRC's online classes do not seek to recreate or replace in-person courses but give you a different educational experience with the same learning outcomes. To allow students the opportunity to practice procedures traditionally taught through IWRC labs, we are creating virtual labs in partnership with Folkmanis Puppets. When completing a class with a lab, you will learn procedures and then upload videos of yourself completing these assignments. Your videos will then receive feedback and evaluation. For those without access to supplies or cadavers, lab kits can be purchased along with a class. In these kits we include the materials needed for your lab including a realistic and carefully crafted Folkmanis animal puppet on which to practice. In this way, our online classes will allow all the benefits of online learning without sacrificing the important experience you gain through a lab.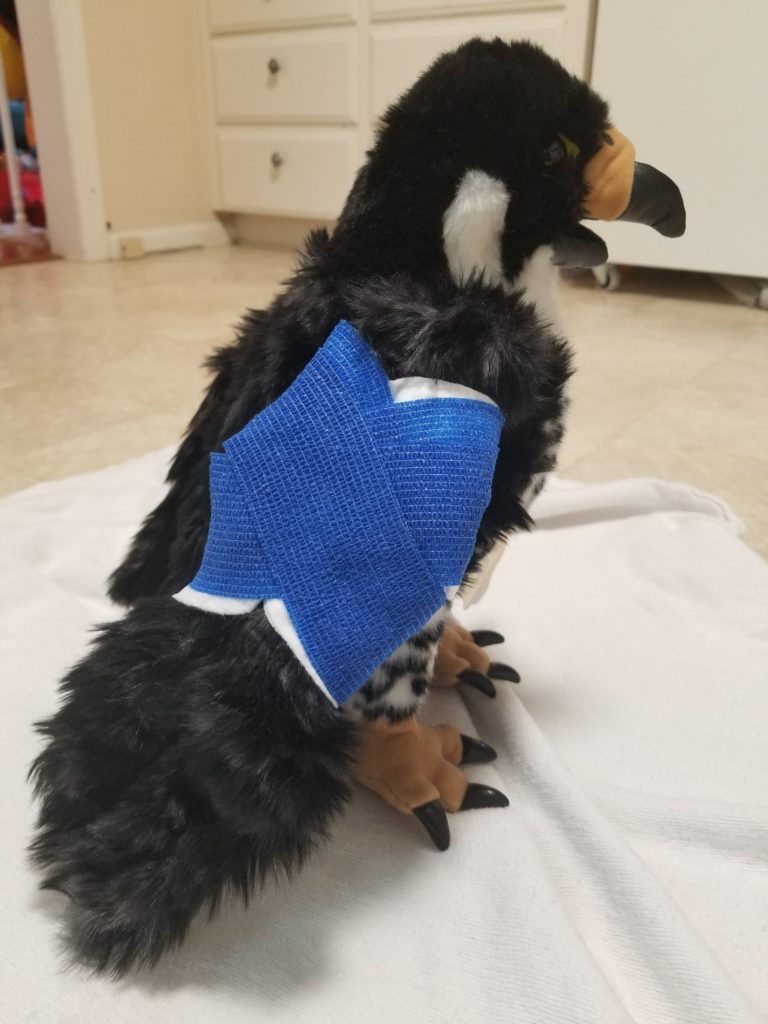 These new classes also come at an opportune moment — during the self-isolation and social distancing necessitated by the COVID-19 virus. While the global pandemic certainly lit a fire under our tails in terms of getting these courses ready for release, they have also been a long time coming. The development of these online courses began in 2018. Now these classes are being rewritten with up-to-date information, are being peer-reviewed by experts, and remodeled with current technologies/resources. You will find that our new courses, although timely, were not rushed to release, and are our best quality online learning resources to date! While we are committed to rolling out these new courses to meet the increasing need, we are still searching for funding to support this accelerated launch. Remember that donations, no matter the size, help us to grow and innovate!
Although we cannot promise exact dates, we will be releasing Wound Management with the bandaging laboratory this spring/early summer. Next, we will introduce our new Parasitology course (also available in-person at a later date), Fluid Therapy, and Pain Management! Directly following their release, the price of each course will be generously marked down. For students that recently took an older version of these courses, you can expect an additional discount as well!
Please stay tuned for more information on future online releases— we have some other projects in the works that we think you will love! The IWRC is committed to growing and improving our educational resources to push the field of wildlife rehabilitation forward. We hope you enjoy our growing curriculum!