The following is the first in a short series of posts from IWRC staff and board members who attended the WDA Conference at Granlibakken Resort in Tahoe City, California USA in August 2019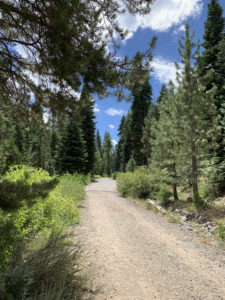 I've recently returned home from the 2019 Wildlife Disease Association Conference, my first one. I highly recommend this meeting to any academic or disease minded rehabilitator (2020 Spain, 2021 Madison, 2022 Georgia, 2023 Australia). The first keynote, by Dr Pieter Johnson focused on community ecology as a tool for understanding parasite interactions and anticipating disease risk. Traditionally these scientific ways of thinking had little overlap. This talk set an excellent conference tone of collaboration across artificial boundaries and a true One Health view of the world.
The attendees were diverse in field, location, language, and age. I was able to spend time with IWRC staff (Julissa), board (Brooke Durham, Mandy Kamps, Pat Latas), members (several!), and instructor (Rob Adamski) and our NWRA colleagues. I was also able to meet with rehabilitators from South Korea (전북야생동물센터 Jeonbuk Wildlife Center) and Chile (Refugio Animal Cascada) researchers in South Sudan, Bangladesh, India, Norway, and Australia, and bend the ear of regulators in several countries about the benefits of wildlife rehabilitation.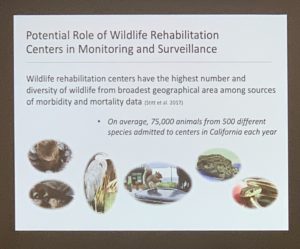 It wasn't just me talking about wildlife rehabilitation, though I certainly did enough of that in the corridors and at meals. Several speakers wove wildlife rehabilitation into their talks, even more obtained data from animals brought in to wildlife rehabilitation. Most thrilling was the work that Terra Kelly, Pranav Pandit and their team did, collaborating with WRMD to create a first of its kind early alert system. With buy-in from multiple California rehabilitators, they integrated with the data wildlife rehabilitators were already entering to see trends in disease that spanned beyond a single rehabilitator. Imagine, 2 murres here, 5 there, another 6 over there, and pretty soon a pattern emerges (or doesn't).
Wildlife rehabilitation centers are "uniquely poised to advance knowledge of threats to wildlife health and populations"
-Pranav Pandit
My takeaway from the 2019 Wildlife Disease Association Conference "Fostering Resiliency in a Time of Change" was that we need a true One Health approach to disease management for the good of all species, and that wildlife rehabilitation must be a player on the 'big stage' of global health.
– Kai Williams, Executive Director