Why do we have peer review?
As wildlife rehabilitation is a fairly new profession, the credibility of the field and the work of wildlife rehabilitators are constantly questioned. IWRC's courses are science-based with live classroom courses and online training options to choose from. In order to meet minimum knowledge standards, IWRC's courses, journals and books are peer-reviewed and developed by professionals from different aspects of wildlife rehabilitation and medicine. These resources are both single- or double-blind reviewed and addressed to a scientific audience as well as individuals who are not from a science-based background.
However, webinars and web content are reviewed differently and are mostly evaluated by professionals or volunteers prior to publishing online, instead of undergoing a full peer review process.
What are the different types of peer review?
1. Single-blind review process: The reviewers are not identified to the author but the reviewers are aware of the author's identity.
The advantage of this process is that it allows unbiased decisions by the author that are free from influence as the reviewers are anonymous. However, the authors may be concerned that reviewers from the same field may delay the review in order to delay publication as this enables the reviewers to publish first1.
2. Double-blind review process: The identities of authors and reviewers are concealed from each other.
This method is the most effective for journals with material that is free from referencing geographic study areas to ensure that research authors are not easily identified when a study area is described in a manuscript. However, reviewers can sometimes identify the author through the paper's style or subject matter1.
The Peer-Review Process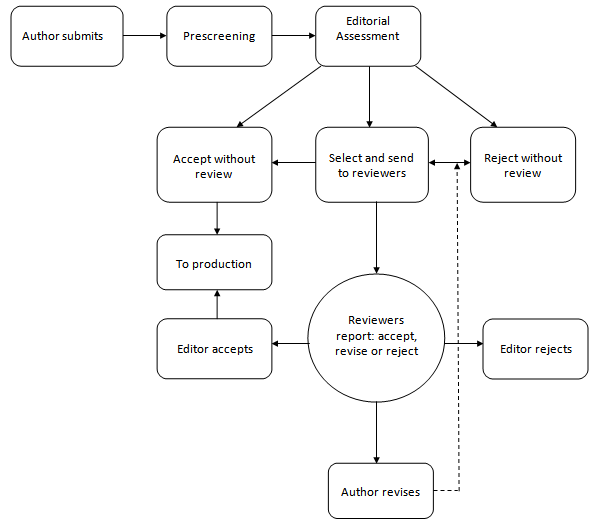 Peer reviewers are not perfect — as humans, they make mistakes too. However, peer reviewing verifies that the best science and practices are used. It is also "the best system we have been able to devise in order to maintain the integrity of the scientific publication process," according to Leonard Brennan, former editor of the Wildlife Society Bulletin2.
References:
1White, G. More than 50 shades of gray. The Wildlife Professional. 2014;8: 22
2Brennan, L. Editorial guidance and wildlife science: the role of wildlife society bulletin associate editors and reviewers. Wildlife Society Bulletin. 2012;36(2):396