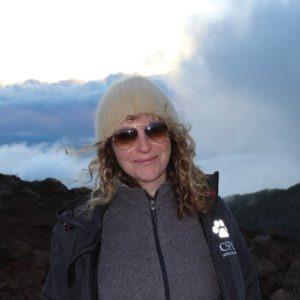 Suzanne Pugh joined the Board of Directors in January 2018 having been a member of IWRC since 2004 when she attended the Basic Wildlife Rehabilitation program. She has subsequently completed a number of IWRC educational courses and trained as an Oiled Wildlife Responder.  Suzanne is currently based on an island off the south coast of the UK where she leads the RSPCA Isle of Wight branch. The 23 acre facility operates a busy rescue and rehoming centre for all domestic animals and also provides a wildlife centre for all injured, orphaned and abandoned wildlife.  Just 380km square, much of the island has been declared an area of outstanding natural beauty – for more information regarding the Isle of Wight wildlife, see below.*
Prior to island life, Suzanne resided in British Columbia, Canada. As Veterinary Operations Director with a national veterinary group, VetStrategy, Suzanne led activities for multiple veterinary hospitals across the provinces of BC and Southern Alberta, Canada. Suzanne has extensive experience working within the charitable sector and spent a decade leading animal welfare and human health programs. For 5 years she served as Branch Manager, BC SPCA Kelowna, overseeing the care of almost 8000 animals. Her responsibilities included all shelter operations relating to the health and welfare of domestic, farm and wild animals. She increased programs to support the intake and assessment for rehabilitation of injured and orphaned wildlife and their transfer to approved rehabilitation centres.
Suzanne volunteered on the regional district bylaw review committee championing improved animal welfare which resulted in the community of Kelowna being the first district in Canada to implement a bylaw making it an offence to leave a dog in a hot vehicle. She was a joint recipient of the BC SPCA Humane Community Award in 2016, recognised for her efforts to establish a canine transfer program to relocate northern breed dogs from the Yukon to BC, for a greater chance of rehabilitation and adoption.
*Why is the wildlife of the Isle of Wight special?
The Isle of Wight is a microcosm of south-east England and is unusually rich in both habitats and species compared to similar areas on the mainland. With chalk grasslands, maritime cliffs and slopes and estuaries, all are important on a national and international scale. As an island located off the south coast there are consequences for the wildlife as well as for the human population. There are fewer introduced species such as grey squirrels, deer or mink; and there are stable populations of native animals which have become rare on the mainland, such as red squirrels, dormice, bats and water voles. The mild climate and maritime situation provide a foothold for a diverse range of species including the Glanville fritillary butterfly, on the northern edge of their European range.