Rob Adamski BVMS, CWR
Robert Adamski is a native of Buffalo, New York, and grew up near Philadelphia, Pennsylvania.  He holds a Bachelor of Science degree in biology from Delaware Valley College of Science & Agriculture, an associate of science degree in veterinary technology from Harcum College, as well as a bachelor of veterinary medicine and surgery degree from the University of Glasgow in Scotland. Dr. Adamski completed two one-year-long internships specializing in wildlife, zoo, exotic companion animal, and aquarium medicine.  He provides medical services for both wildlife and exotic pets, including dental work, surgical procedures, husbandry advice as well as nutritional and behavioral guidance.  He has treated everything from poison dart frogs to bald eagles and every type of exotic animal in between.
At New England Wildlife Center, Rob coordinates and directs the internship program which accepts undergraduate students, vet tech, and veterinary students from several different countries. Rob is the lead wildlife veterinarian for the Center and coordinates the care and release of hundreds of wild animals every year.  He has spearheaded and participated in a number of humane wildlife research projects at the Center including investigations into the outbreaks of parvovirus & distemper; blood reference ranges for eastern gray squirrels and sarcoptic mange in red foxes. Furthermore, Dr. Adamski is involved with statewide and regional efforts to assist and educate home-based wildlife rehabilitators. 
Off-duty, Dr. Adamski engages valiantly in a battle of wills while attempting to pacify and herd his two adorable and lovable rescued Canadian tortoiseshell cats. He enjoys hiking, reading, and volunteering with the American Red Cross, as well as his local fire department as a first-aid/CPR instructor, firefighter, and paramedic and serves in the US Army Reserves Veterinary Corps as a commissioned officer.
Kim Blomme RVT, CWR

Kim never really knew what she wanted to be when she grew up until she responded to an advertisement looking for help at a local veterinary clinic. 35 years later, she still loves the field of veterinary medicine and is committed to life-long learning. She became a registered veterinary technologist in 1985. While working at the veterinary clinic, she became aware of the lack of resources to assist wildlife and in 1989; she founded the Alberta Bird Rescue Association, a wild bird rehabilitation centre out of her home in Sherwood Park, Alberta, Canada. This became the Wildlife Rehabilitation Society of Edmonton in 1996 and now WildNorth Wildlife Rescue and Rehabilitation which runs a wildlife hospital in Edmonton and a rehabilitation facility in Parkland County, Alberta. Kim is the Director of Wildlife Services for WildNorth and oversees the care of over 2900 wild birds and small mammals annually. She continues to work part-time as an RVT and maintains her registration through active CE each year.
Kim has a strong desire to see a well-developed plan for responding to injured, orphaned or oiled wildlife in urban environments and believes caring for and about wildlife should be a shared responsibility with non-profits, municipal and provincial/federal governments. She is also committed to increasing understanding and tolerance for urban wildlife in a rapidly changing landscape.
Lloyd Brown CWR
Lloyd has served IWRC as a State Representative, a regional representative and then as a board member. He served as the membership director and conducted surveys of rehabilitators from around the world (asking what rehabilitators wanted IWRC to be for them and what IWRC could do to make them more likely to join). Lloyd developed and taught the first disaster preparedness class specifically for rehabbers and developed a database to assist rescuers in helping rehabbers after a disaster. Lloyd served in the US Army as a Paratrooper and is currently serving as a fire fighter, technical rescue technician and paramedic. He also has worked around the world on animal rescue and disaster relief projects for Vier Pfoten, IFAW, HSUS, HSI, Code 3 associates, and ASPCA. Lloyd feels that IWRC should be the leader in providing education and advocacy for rehabilitators around the world. Where there are currently no rehab operations, local people should be helped and educated to understand the value of native wildlife and to develop rehabilitation programs appropriate to their regions and the problems they face. Lloyd is currently a State and Federally permitted wildlife rehabilitator and runs a small rehabilitation operation in South Florida. He has been working as a rehabber for 18 years and rehabilitates native birds, terrestrial mammals and marine mammals (dolphins, whales and otters).
Halley Buckanoff CWR
Halley is currently employed at the North Carolina Zoo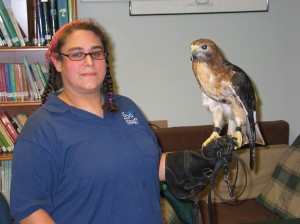 at the helm of the Valerie H. Schindler Wildlife Rehabilitation Center overseeing rehabilitation practices, center operations, and mentoring of more than 150 volunteers and interns.
Halley graduated from Lewis and Clark College in Portland, OR with a Bachelor's of Science in Biology. She is a Certified Veterinary Technician with 10+ years of emergency, exotic, zoo and wildlife medicine and husbandry experience. She has completed graduate level course work in animal population management and animal nutrition. Previously, she worked as field biologist mist-netting, trapping, banding, tracking and radio-collaring birds; currently she holds a USFW banding permit and is conducting post-release survival studies on commonly rehabilitated backyard birds in conjunction with Guilford College.
Halley is also the Association of Zoo and Aquarium's North American Regional Studbook Keeper for the Perodicticus potto (a small African monkey), having devised and published protocols leading to the first successful hand-rearing of a captive infant. Halley believes that the wildlife rehabilitation community are entrusted professionals and as such stewards for wildlife and wild places, relied upon to stay up-to-date on practices and provide conservation education.
Christina Carrieres RVT, CWR
Christina Carrières, is a Registered Veterinary Technologist, a Certified Wildlife Rehabilitator (IWRC certification program), and the Senior Wildlife Rehabilitator (SWR) at the BC SPCA Wild Animal Rehabilitation Centre (Wild ARC) on Vancouver Island, BC.  At Wild ARC, she leads a team of wildlife rehabilitation staff and volunteers where 2,500 wild patients are admitted and cared for every year.  She is originally from Montréal, QC where she completed her VT program.  She worked with marine mammals at the Parc Aquarium de Québec for some time before moving to Victoria in 2003 to complete a Double Major in Biology and Environmental Studies at the University of Victoria. She has since been working as a part-time RVT in a veterinary clinic and has been a wildlife rehabilitator at Wild ARC since 2005. She moved in the full time SWR position in 2009. Christina is the Vice President for the Oiled Wildlife Society of BC, a Board Member and the Secretary for the Wildlife Rehabilitator's Network of BC, the representative WRNBC trustee within the Oiled Wildlife Trust of British Columbia, and an instructor for the International Wildlife Rehabilitation Council.  She also volunteers with Vets for Pets, a local organization that provides free basic medical care to low income and homeless people's companion animals and with Canadian Animal Assistance Team.
Over the years, she has completed a number of training courses and has gained experience volunteering in various wildlife rehabilitation centres in different countries such as Guatemala, Belize, South Africa working with endangered African penguins, and Hawaii where she worked with endangered species of seabirds and waterfowls.  She also attended numerous conferences related to wildlife in order to provide the best possible care for Vancouver Island's wild patients.
Sherri Cox DVM, CWR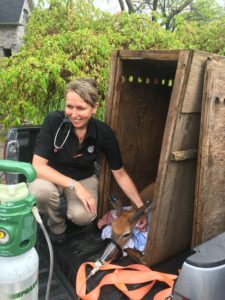 Dr. Sherri Cox is the founder and Medical Director at the National Wildlife Centre in Ontario Canada. As a wildlife veterinarian, Dr. Cox oversees the diagnosis, treatment, and surgical intervention of thousands of sick and injured wild animals across Canada. A graduate of the Ontario Veterinary College (OVC), Dr. Cox has a special interest in orthopedic surgery and has diverse experience working with native birds, reptiles, and mammals. She also is an avian specialist, as a Diplomate, ABVP. . She has trained many student veterinarians and veterinary technicians in wildlife medicine.
Dr. Cox is also an Adjunct Faculty member at the College of Biological Science, University of Guelph.
Kelli Knight DVM, CWR
Dr. Kelli graduated cum laude from Virginia Tech with a Bachelor of Science in biochemistry and from the Virginia-Maryland Regional College of Veterinary Medicine with a Doctorate in Veterinary Medicine. After a successful career in small-animal practice, she completed an internship at the Wildlife Center of Virginia in 2011 and fell in love with the field of wildlife rehabilitation! In 2012, Dr. Kelli joined the staff at the Wildlife Center of Virginia and held several positions including Wildlife Rehabilitator, the Assistant Director of Veterinary Services, and the Director of the Wildlife Care Academy. In 2018, she accepted a position as the Veterinarian-in-charge at the Southwest Virginia Wildlife Center. She is also a member of NWRA's national team. In her free time, Dr. Kelli enjoys traveling and has visited over 40 countries.
Kristin Madden CWR
Kristin Madden is the former Clinic Director of Wildlife Rescue Inc. of New Mexico. She has been training educational raptors and rehabilitating wildlife since 1998. Kristin has been a wildlife biologist for 20 years, focusing on avian biology. She has a Master's degree in environmental studies/wildlife biology and is conducting long-term research on urban Cooper's Hawks in New Mexico.
Rebecca McKeever CWR
Rebecca has been a wildlife rehabilitator in Texas since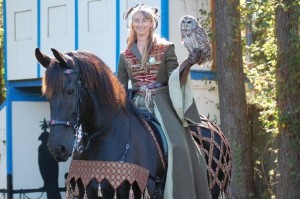 1994, but has a long history of volunteering at centers since the mid-80s. In 1997, she founded Lone Star Wildlife Rescue. Her group takes care of all native Texas wildlife, but specializes in deer and raptors, including eagles.
Rebecca has been sharing her experience with IWRC students throughout the country and abroad since 2000. She has a love of teaching and spent many years at sea on a research vessel as First Scientist for the Sea Education Association. Her duties include running the lab, quality control, lectures to students on a variety of oceanic/environmental topics as well as rehabbing the occasional wayward bird that landed on the deck.
Besides rehabbing, Rebecca also runs Horse Feathers Farm; breeding select, imported Gypsy Horses and beautiful Drum Horses. Her passions are birds and horses.
Rebecca Michelin BSc, CWR
Rebecca grew up in Nova Scotia, Canada, and holds a Bachelors of Science with a focus on marine biology. Her career in rehabilitation began with a summer internship at Hope for Wildlife in 2009, and she hasn't looked back since! As her experience grew, Rebecca became coordinator of education and then rehabilitation for Hope for Wildlife. She traveled to Texas to Wildlife Rescue and Rehabilitation, where she supervised the rehabilitation apprenticeship program before becoming director of animal operations for the rehab and sanctuary. Her continuing desire to experience wildlife care in other locales drove her to move to British Columbia, where she worked as a rehabilitator for the BCSPCA.
Currently, Rebecca is the director of wildlife rehabilitation for the Wildlife Clinic at the Schuylkill Center in Philadelphia, PA, where she is responsible for the care of over 3000 patients a year from admission to release. Rebecca is passionate about education and training in wildlife rehabilitation and continues to develop her volunteer training and internship programs to enhance the quality of care for wildlife as well as encourage and retain a dedicated volunteer core. She believes strongly in the importance of communication and cooperation amongst wildlife rehabilitators and between the rehabilitation community and other wildlife and animal care organizations for the benefit of all wildlife in need.
Mark Naniot CWR
Mark Naniot has been mending orphaned and injured wildlife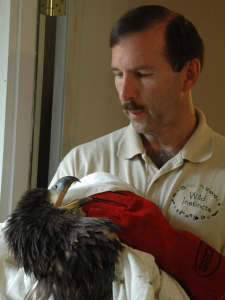 for almost 40 years. He has Bachelor degrees in natural resources and biology and has served on the Wildlife Rehabilitation Advisory Committee to the Wisconsin Department of Natural Resources since its inception. This committee promotes wildlife rehabilitation as a profession with guidelines and rules to protect the wildlife in rehabilitator's care as well as safeguard the public.
From 1996-2010 Mark and his center were responsible for the care & treatment of over 10,630 wild animals comprised from over 100 different species.
Renee Schott DVM, CWR
Renée is currently a full-time staff veterinarian at the
Wildlife Rehabilitation Center of Minnesota (WRC), one of the largest rehabilitation centers in the country. She has been involved in wildlife rehabilitation for over nine years and has worked at wildlife rehabilitation centers across the country.
Renée is passionate about wildlife rehabilitation medicine and sharing her knowledge with others; over 50 veterinary students come to WRC each year to learn more about wildlife medicine. Additionally, Renée teaches veterinary technicians at Argosy University, is involved in teaching courses at the University of Minnesota-College of Veterinary Medicine, and is on the National Wildlife Rehabilitators' Association's Board of Directors.
Lynne Slater CWR
Lynne began doing wildlife rehabilitation when she was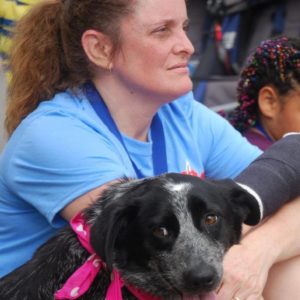 14. She volunteered at the Virginia Living Museum (then the Peninsula Nature and Science Center) with a keen interest in the educational aspect of wild animals. In college, Lynne chose to major in biology with a marine science emphasis. After a summer internship in the Florida Everglades, she realized that this passion would not be a career path for her and for many years, pursued a different path.
Fast forward, Lynne learned of wildlife rehabilitation when she lived in Wisconsin and sought out the training and permits to begin the passion she had put on hold so many years before. In 1998, she moved to Arkansas and founded HAWK Center (Helping Arkansas Wild "Kritters"). HAWK Center specializes in avian species and small mammals, especially critical care. Lynne is also a Basic Wildlife Rehabilitation skills instructor for the International Wildlife Rehabilitation Council since 2001.
Debbie Sykes CWR
Debbie has been a wildlife rehabilitator since 2012 in Nashville, playing every role from volunteer to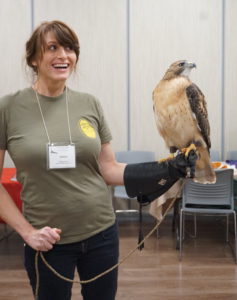 supervisor to director. She is currently the Director of Nashville Wildlife Conservation, and previous roles include Assistant Animal Care Director at Walden's Puddle Rehabilitation Center, a Behavior Technician for Veterinary Behavior Solutions, and an intern with Hoofstock at the Nashville Zoo. Debbie graduated from Northern Arizona University with a Bachelor of Science in Biology. Her career experiences have led her to focus on bringing awareness and increasing the quality of care for wildlife patients and educational ambassadors. She is always learning more and encourages others to always ask questions.   
Lee Theisen-Watt CWR
Lee Theisen-Watt majored in biology as a member the National Academic Honor Society Phi Theta Kappa. Animal care and behavior were a major focus of her life, and she began working with non-profit animal groups during college. Initially she worked with domestic animals as a volunteer at Operation Kindness, then with farm animals and avian wildlife at Samuell Farm and Roger's Wildlife Rehabilitation. This led to her career in Wildlife Rehabilitation. After receiving her Wildlife Rehabilitation Permit from the Texas Parks and Wildlife Department, her experience with wildlife increased rapidly while assuming leadership roles in her local community as well as national and international. Lee has continued her veterinary medical education by earning her CVA and practicing as a Veterinary Technician at the acclaimed North Texas Emergency Pet Clinic.
Currently Lee's efforts focus on establishing APES Sanctuary for Primates founded 2010 in Mount Pleasant, Texas. APES will be among the leading Primate Sanctuaries in the country providing captive care of Chimpanzees and Lesser Apes. APES will play an important role in advancing the care of captive primates and promoting conservation.
Lisa Tretiak CWR
Lisa Tretiak, a founding member of the Prairie Wildlife
Rehabilitation Centre (PWRC), started her career in wildlife rehabilitation in 1994. In 1998, Lisa graduated with a Bachelor's Degree in Zoology from the University of Manitoba. She gained permanent employment in the wildlife rehabilitation field as a rehab supervisor, and later moved into the position of Rehabilitation Director.
From years of experience working with raptors and a successfully-completed training course, Lisa became permitted as a Master Bander for rehabilitated raptors. During the spring of 2008, Lisa became the first Manitoban and only the fourth person in Canada to be a Certified Wildlife Rehabilitator (CWR) through the International Wildlife Rehabilitation Council.