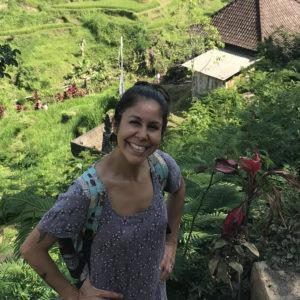 Daniela Castillo is a Mexican Veterinarian born and raised in Oaxaca, Mexico who is very passionate about animal rights, wildlife and environmentalism.
Her dream as a child was always to help animals with her own hands. At age 15 she went pesco-vegetarian; she told her parents she no longer wanted to eat her future patients.
​
Valedictorian of her class, she graduated with a Veterinary Medicine degree from Universidad Veracruzana – a production farmed focused school- in 2008. Thinking she wanted to specialize in Zoo medicine she completed a one-year internship in a government funded zoo in Veracruz City. After seeing the reality of zoo animals her heart was broken and she decided to take a break from veterinary medicine and pursue an environmental degree.
Daniela obtained a full scholarship from the Mexican government to study a Master degree in Wildlife Conservation at Macquarie University in Sydney, Australia. Not only did she discover that wildlife was her passion, but she also learned that there were not only ethical reasons but extremely important environmental reasons to go vegan. So she did in December 2010.
​
In March 2011 she started volunteering at St. Francis Wildlife Association, a wildlife rehabilitation center in Quincy, Florida. Thanks to her dedication and academic qualifications, she became the Director and licensed Wildlife rehabilitator in charge for nine months.
Daniela realized she could not help wildlife and other animals as much as she wanted to without being licensed to practice Veterinary Medicine in the United States. After almost four years of hard work and study as a veterinary technician, in April of 2016 Daniela became a Licensed Veterinarian in the State of California.
​
During her first year and a half of practicing she worked for an emergency hospital as well as a corporate private general practice hospital.
​
She then discovered shelter medicine and decided that it is where her efforts as a veterinarian should focus due to the importance of dog and cat overpopulation and the need to put energy towards it.
​
Currently she works performing High Volume High Quality Spay and Neuter surgeries and practicing shelter medicine for several non-profit organizations. She has acquired more experience with sanctuary farm animals while doing work for a couple of farm animal sanctuaries in the San Fernando Valley.
​
Dr. Castillo visualizes and works for a future world where all animals are free of pain, slavery and a cruel and unnecessary death. She envisions a world where Veterinarians will be the main defenders of these simple rights for animals.