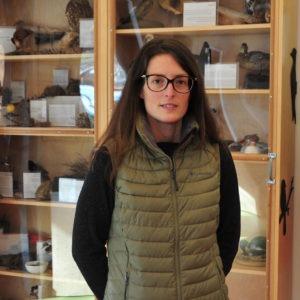 Susan Wylie is a wildlife biologist, Environmental Management technician, and Certified Wildlife Rehabilitator. She is also Past President of IWRC and currently sits on the Development Committee.
As Director of Operations at Le Nichoir, Susan oversees many different aspects of the organization's activities including program development, finances, staff and volunteer management, fundraising and donor cultivation, public education and the centre's on-site store.
Susan has asserted her professionalism by leading the development of Le Nichoir's bird care protocols and best practices for the past 18 years. The Centre admits over 3,000 wild birds annually, and specializes in the care of songbirds and insectivorous birds, including the Chimney Swift.
Susan is passionate about promoting wildlife conservation through networking and by linking rehabilitation to science, education and professionalism. She has established strong relationships within the scientific, conservation and animal welfare communities, as well as governmental agencies. She is equally committed to sharing information and working towards the standardization of best practices in wildlife rehabilitation to improve the quality of life and welfare of wildlife in care.