Participate in Research
Researchers are interested in studying wildlife and wildlife rehabilitation and they need our help. Click on one of the below studies to learn more and see what you can contribute!
Animal Facility Emergency Management Survey
Post-capture Complications in Deer
Antibiotic use for Pouch Orphaned Opossums
Enhanced North American Crisis Survey 2017
Chris Heck, Rhonda Anderson, and Will Riga are looking at aspects of emergency management for zoos, aquariums, and other animal facilities. They will be comparing current information to results from a 1996 survey to explore the evolution of emergency management in animal facilities.
Post-capture Complications in Rescued Deer
Do you rescue deer?
Lucy Haile is a fourth year veterinary student at the Royal Veterinary College, London with a strong interest in the rescue and recovery of wildlife. In pursuit of this she is currently conducting a research project on deer casualties.
Lucy has had experience in the field herself rescuing distressed deer and understand that it is not always easy to know how best to manage these cases. Her research project plans to look at the different problems wildlife centres see when rescuing deer and approaches to overcome these. The research goal is to increase the understanding of post-capture complications in deer and their management strategies with the aim of developing beneficial protocols to improve recovery success rates. To gather some baseline information she has created a quick survey (no more than 10 minutes). Lucy would be extremely grateful if any wildlife centres who see deer could please fill it in. This is to assess what is commonly seen to get a better understanding of what needs further investigation. The more responses the better!
Please click/type in the following link if you would like to help: https://www.surveymonkey.com/r/YPJHB7C
Eastern Spotted Skunks in Texas
Dr. Robert C. Dowler of Angelo State University (San Angelo, TX) and his graduate students are carrying out a research project to assess the status and genetic health of eastern spotted skunks (Spilogale putorius) in Texas.  In an effort to gain data on the distribution of eastern spotted skunks historically and currently, we are looking for any past admission records that any wildlife rehabilitator has for this skunk species.  Record information can be sent to Bonnie Gulas-Wroblewski either via e-mail to dovekey@gmail.com or via mail to Dove Key Ranch Wildlife Rehabilitation, Inc., P.O. Box 1292, Columbus, TX 78934.  Although our focus is on the eastern spotted skunk, we are interested in any current or future records of both western and eastern spotted skunks.  If you admit (or currently have) any spotted skunks in your facility, please call or text Bonnie Gulas-Wroblewski as soon as possible at 713-548-4718.  If you receive a spotted skunk that either is euthanized or dies, please freeze the body and contact us for carcass transportation arrangements.   Please see below for images and descriptions of eastern and western spotted skunks.  If you have any further questions about this project, feel free to contact Bonnie Gulas-Wroblewski at the above address or phone number at any time.  Thank you in advance for your invaluable assistance in this project.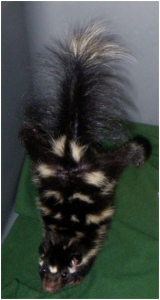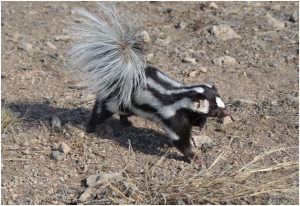 Spotted Skunk Descriptions: The eastern spotted skunk generally has less white coloration across the body than does the western spotted skunk.  The tail of the eastern spotted skunk is white for less than half its total length, whereas the western spotted skunk's tail is white for 50% or more of its total length.  The western spotted skunk has a larger white patch on its forehead than does the eastern spotted skunk."
NSAIDs in Avian Scavengers
Participate in a worldwide research project with the goal of reducing vulture deaths from eating contaminated carcasses. Diclofenac is widely known to cause kidney failure in vultures and meloxicam is just as well known as a safe alternative.
"Advice from veterinary and pharmaceutical experts is that it would be very valuable now to identify another vulture-safe drug that is cheap and effective in cattle so as to speed up the removal of diclofenac and other potentially toxic drugs.
This is especially urgent now because of a successful captive breeding programme in India. All three endangered Gyps vulture species have been bred successfully in captivity and there are now enough young being produced annually that the first releases back to the wild are expected within two years.
One way in which we can speed up the identification of vulture-safe alternative drugs is to make use of the experience of people who keep birds of prey in captivity, or who work in the rehabilitation field."
Fill out this this survey on experiences with NSAIDs in avian scavengers and e-mail it to Jemima Parry-Jones at jpj@icbp.org or mail it to Jemima Parry-Jones, The International Centre for Birds of Prey, Newent, Gloucestershire GL18 1JJ, UK.
Antibiotic use for Pouch Orphaned Opossums
The Wildlife Center of Virginia is collecting information to determine whether the use of antibiotics in Virginia opossum pouch young found on dead mothers is warranted.
Currently, it is standard protocol in many wildlife rehabilitation settings (including WCV) to place pouch young found on dead mothers on a short course of antibiotics to prevent enteritis associated with consumption of rancid milk. There is little science supporting this practice, and there is growing concern about non-judicious use of antibiotics leading to widespread resistance. WCV has spent the past two summers gathering data on antibiotic use in these opossums in a case-control clinical trial.
Please help us by filling out this survey. It is anonymous and should only take you 2-3 minutes. We plan to publish the results of this survey along with the results of our clinical trial.
Thanks for your participation!
Urban Wildlife Data Needed
Wildlife rehabilitation centers are being asked to share information from their intake records to assist in the development of a comprehensive list of urban wildlife species. Study results will be published in the upcoming 3rd edition of Urban Wildlife Management, written by Dr. Clark Adams and Dr. Kieran Lindsey (Journal of Wildlife Rehabilitation editor).
This call is directed primarily at rehabilitation centers in urban areas, as defined by the U.S. Census Bureau:  "Urban Areas (UAs) of 50,000 or more people, and Urban Clusters (UCs) of at least 2,500 and less than 50,000 people."  In other words, rehab centers located in metropolitan areas (cities and suburbs), or receive the majority of their intakes from these areas.
This study has two primary goals:  1) to demonstrate that urban/suburban habitats support a richly diverse community of wildlife species; and 2) to increase awareness of the important contribution wildlife rehabilitation and rehabilitators can make to scientific inquiry and a more complete understanding of the natural world.
The researchers understand this is the busiest time of year for wildlife rehabilitation centers and are requesting a simple report that should not take long to generate if the center maintains electronic records.
The information requested is as follows:
Ideally, the report would follow this format (Excel spreadsheet preferred; Word documents acceptable):
Centers willing to participate should contact Dr. Kieran Lindsey (
jwr.editor@theiwrc.org
) ASAP for additional instructions for report submission.
Comparative Ocular Study
The Comparative Ocular Pathology Laboratory of Wisconsin is looking for specimens for their research library. They are specifically looking for formalin - fixed heads of recently dead (no more than three hours) of the following:
Please contact Dick Dubielzig at dubielzr@svm.vetmed.wisc.edu or visit http://www.vetmed.wisc.edu/pbs/dubielzig/pages/coplow/advice.html for more information.