The IWRC has seen many presidents in the last 40 years, all with their unique perspectives, well-established reputations and drive to pursue the organization's mission of providing education and resources to support the field of wildlife rehabilitation.
I have some very big shoes to fill as the president. I remember being brought on the board in 2008 as the youngest board member at the time to represent new rehabilitators to the field. This opportunity was challenging but allowed me access to a network of experienced wildlife rehabilitators, which would prove to be invaluable and have a great influence in the care and protocols I established for the birds we admit to Le Nichoir.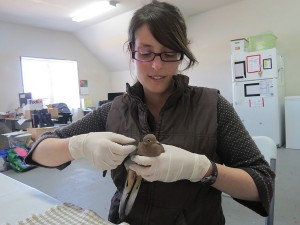 Even after being in this field for over 10 years (not long compared to some of our members!) as both a rehabilitator and wildlife biologist I still consider myself a novice. There is always more to learn; whether you are new to the field, or have been practicing for a very long time, we are constantly learning new information and changing accordingly. Our passion for wildlife drives us to learn more, to improve our work and to teach others what we know. The ultimate result is to offer wildlife casualties a more humane, appropriate form of care that means we will be releasing better prepared, more viable animals back into the wild and we will be confident that our job was well done.
Projects such as the revision of courses including Basic Wildlife Rehabilitation, developing new resources and increasing networking among individuals in the field are just some of ways IWRC is supporting its members and contributing to the bigger picture of wildlife conservation.
IWRC is the international hub of wildlife rehabilitation, and I look forward to continuing to work hard, contribute to these projects, and represent the IWRC the best that I can so that we can increase our visibility and continue to support rehabilitators worldwide.
The board and I are always available to you to help you in any way that we can. Do not hesitate to contact us through the office at 866.871.1869 and visit our bios on our website www.theiwrc.org