How did you initially become involved with IWRC and why did you choose to become involved on a board level?
I started volunteering at a wildlife rehabilitation center in early 2017 and became a staff member shortly before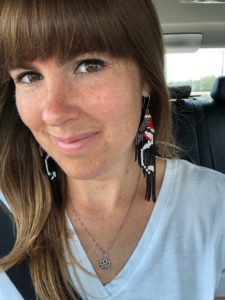 going back to graduate school that same year. Once I became a staff member, I did more research and background around professional organizations in the wildlife rehabilitation field and discovered IWRC. I signed up as a member that year and have beena member since. Since graduating from school in 2019, I left my position at the rehabilitation center and have been involved as a volunteer helping sporadically when my work schedule allows with the center and other local rehabilitators. When the email came stating there were openings for the board, I found myself interested in the possibility of serving as a board member since I was not able to commit full-time to working as a wildlife rehabilitator and saw it as an opportunity to be involved and serve the rehabilitation community at another level.  
Describe a skill that you have that has been surprisingly useful to your work as a wildlife rehabilitator? (or as an IWRC board member?)
I have a diverse background having switched careers 6 years ago. My education includes a BS in Ecology and Field Biology with a concentration in Wildlife Biology followed by a Masters in Environmental Health and Safety (heavily concentrated in occupational safety and industrial hygiene).  This masters served as my primary profession for about four years in both public and private entities before I decided that it wasn't what I wanted.  However, with this education and professional experience, I have gained a wide range of knowledge on public health, emergency management, and occupational and environmental regulations that have become very helpful in other aspects of life from volunteering roles to wildlife rescue to engaging with general members of the public to rehabilitating.  Since obtaining my second graduate degree, I have felt that I am able to serve my fellow rehabilitation community in other ways than just animal care by aiding in understanding regulations and public policy at a local, state, and federal level, helping to identify ways to approach and engage with different populations within the community and be more active as an advocate for wildlife conservation and welfare.
Describe a project or accomplishment that you consider to be the most significant in your career.
Completing a second graduate degree is one of the biggest accomplishments I consider significant in my career. I went ahead knowing that it was going to be a challenge and a significant change to my personal life as well. It also meant more to me as it was a subject I was passionate about since a young age. I managed to complete a Masters of Science in four semesters with a defended thesis and a GPA of 4.0. It was something I worked extra hard for and happily achieved.
If you were to do something else professionally, what would it be?
I have a wide range of interests, but if I were to do something else professionally it would be to be a lobbyist. I enjoy the legislative process and actively engage in public policy at different levels. While in high school, I considered the environmental law school path to become more involved with politics for wildlife and natural resources.  
If you could be a wild animal, which would you be?
This is such a difficult question to answer because the first animal that came to mind was a skunk, and then a vulture. I know I would enjoy both as a wild animal in life. Skunks have such distinct personalities and a wide variety of colorings. They have this amazing ability to deter most species just from their scent!  For vultures, they are unseen and unwanted by many humans but they are such essential species in the role of maintaining a healthy ecosystem. Vultures are smart and resourceful birds with dynamic family groups.
What excites you so much that it keeps you awake the night before?
Traveling excites me so much that it keeps me awake the night before. I am sure it is partially due to the stress of traveling: ensuring that the flight is on-time or no car troubles during the road trip, hoping for fair weather, and making sure I didn't forget anything while packing. The excitement of heading somewhere new or somewhere you have been countless times before but always look forward to heading back to.  
Describe any companion animals that you share your home and life with.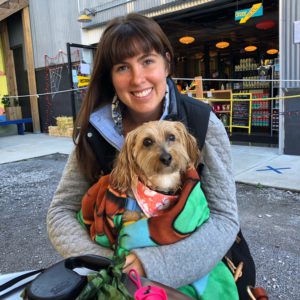 Shelby is my 14-year-old yorkiepoo. She has a unique background and is considered a rescue. She was returned by her adopted family to the original breeder (they had one litter, and adopted all the pups out but one). Shelby was a shell of a dog, scared and shy when she came tome at 4.5 years old. It took a full year for her to feel comfortable with the human touch and want to be near you. She is spoiled now!  In the ten years she has been with me she has come to enjoy giving kisses, loves to cuddle on the couch or in bed, and isn't afraid to voice her opinions. Shelby still has some fears: she is terrified over the smell of any kind of fire and smoke, a pan sizzling, and fireworks.